Current Lab Members
Elizabeth L. Jockusch
Professor
Biology / Pharmacy 305B
860-486-4452 (office)
elizabeth.jockusch
Ruth Fisher
Postdoctoral Researcher
Biology / Pharmacy 318
Annette Evans
Ph.D. Student
Jockusch / Urban labs
Biology / Pharmacy 322
annette.evans
Hannah Ralicki
Technician
Caira / Jockusch labs
Biology / Pharmacy 318
hannah.ralicki
Justin Kratovil
Postdoctoral Researcher
Biology/Pharmacy 322
justin.kratovil
Sarah Baker
Undergraduate Researcher
2017-
SURF (summer 2019)
Katherine Starr
Undergraduate Researcher
2019-
NSF REU (summer 2019)
Ariana Rojas
Undergraduate Researcher
2019-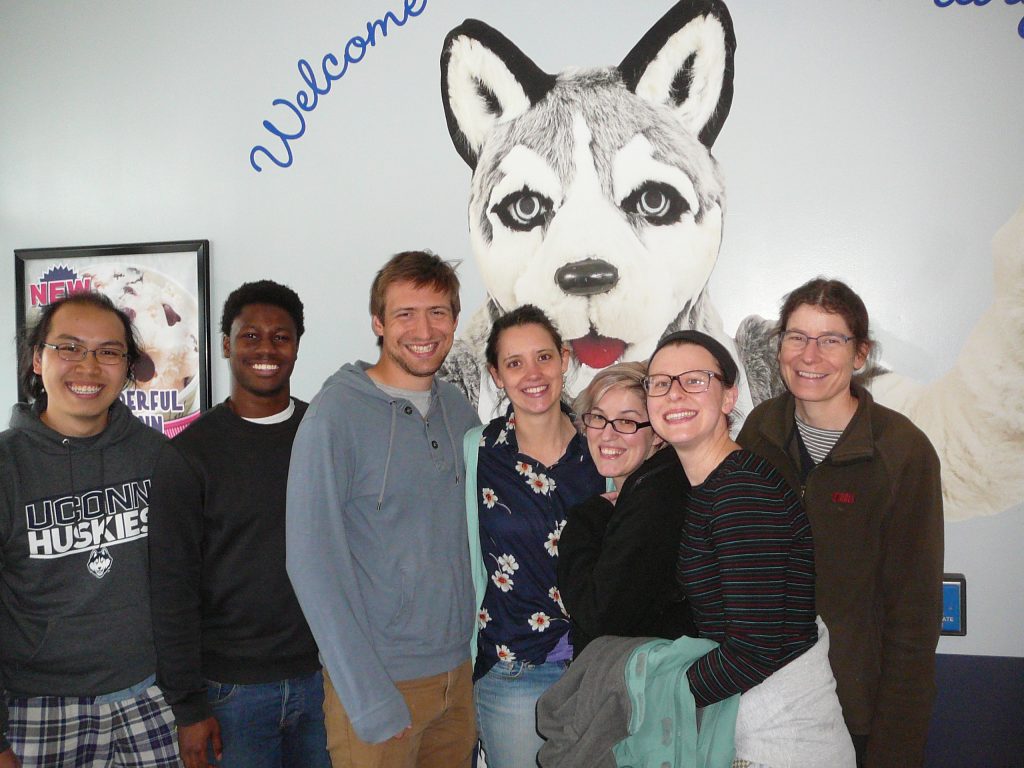 Lab Alumni
Graduate Student and Postdoctoral Alumni
Andrew Frank
M.S., 2018
andrew.frank
Ruth Fisher
Ph.D. 2019
Dissertation Abstract
2019: postdoc in lab
Frank Smith
Ph.D., 2013
Dissertation abstract
Assistant Professor, U. North Florida
Elizabeth Timpe
M.S., 2012
Community Outreach Manager, CT Humane Society
Roberta Engel
Ph.D., 2011
Dissertation abstract
Assistant Professor, Notre Dame of Maryland
Ińigo Martinez-Solano
Postdoc, 2007-2008
Senior Scientist, Museo Nacional de Ciencias Naturales, Madrid
David R. Angelini
Postdoc, 2005-2008
Assistant Professor, Colby College
Moto Kikuchi
Technician, 2006-2008
Brigid C. O'Donnell
Ph.D., 2007
Dissertation abstract
Associate Professor, Plymouth State University
Jonathan Q. Richmond
Ph.D., 2005
Dissertation abstract
Herpetological Geneticist, USGS San Diego Field Station
Karen Ober
Postdoc, 2001-2004
Associate Professor, College of the Holy Cross
Tobias Landberg
Schlichting/Schwenk labs
Ph.D., 2010
Dissertation Abstract
Assistant Professor, Arcadia University
Undergraduate Thesis Students
Ryan Mayer (2017-2019)
Thesis: The relationship between soil conditions, forest composition, and morph frequencies of a woodland salamander, Plethodon cinereus
SURF (summer 2018)

 
Adam Chiu (2015-2018)
Thesis: Phenotypic responses to changes in RNA interference parameters in a hemipteran (Oncopeltus fasciatus)SURF (summer 2017)
Limmond Ayisi (2014-2017)
Thesis: Investigating mouthpart development patterning in Tribolium castaneum larvae through RNA interference targeting cap-n-collar and Wnt6 
2019: M.S. Program, Boston University
Temina Kusi (2013-2015)
McNair Scholar
Thesis: Correlation between body parts in holometabolous and hemimetabolous insects
2017: M.S. Program, Physicians Assistant, Pace University
Devin O'Brien (2011-2013)
Thesis: An analysis of the developmental genes fringe, frizzled, and dishevelled in the red flour beetle, Tribolium castaneum
2018: NSF Postdoctoral Fellow, Colby College
Matthew Gaudio (2010-2012)
Thesis: Exploring the evolution of the arthropod labrum in Tribolium castaneum.
2013: Freelance artist
Leroy Robinson (2006-2010)
Thesis: Demystifying cryptic species in the Batrachoseps relictus group
2018: NYU Sackler Institute
Tami Cruickshank (2004-2005)
Thesis: Evolutionary implications of a gene duplication event:  comparison of nubbin in Tribolium castaneum and Drosophila melanogaster.
2013: Postdoctoral Fellow, Indiana U.
Other Undergraduate Researchers

Brian Branciforte


(2003-2004)

Madison Caballero

(2014-2015)


Derek Cornetta
(2008-2009)

Sean Edington
University of Virginia
(summer 2006)

David Farris, Jr.
(2011-2013)

Taylor Ferguson
(2012-2013)

Vance Harper
(2008-2009)

Dan Kirk
(2010-2011)

Jessica Klein
(2006)

Daniel Madden
(2011-2012)

Eliana Mejia
(2005)
Kate Morozova
(2011)

Justin Mortimer
(2000)

Jeremy Pang
National University of Singapore
(2017)

Lisa Rodriguez
(2001)

Jallah Rouse
Johnson C. Smith University
(summer 2007)

Ashley Sullivan
(2013)

Avis Thompson
Johnson C. Smith University
(summer 2008)

Sarah Vetrano
(2014-2015)

Jennifer Wheeler
(2003)

Chelsea Willett
(2009-2011)
Lab Visitors
Chris Evelyn
Graduate Student Visitor, 2011
Ph.D., U.C. Santa Barbara
Jorge Gutiérrez Rodríguez
CSIC Research Visitor, 2012
Ph.D., Universidad Autónoma de Madrid
Postdoc: Universidad Nacional Autónoma de México (UNAM)
Christina Kocer
CT DEP weasel identification, 2007-2008
USFWS, White-Nose Syndrome National Assistant Coordinator
Anny Peralta Garcia
Graduate Student Visitor, 2008
Conservación de Fauna del Noroeste, La Paz, Baja California

Alireza Sari, Ph.D.
Research Visitor, 2009, 2011, 2012
Zoological Museum, University of Tehran

Prashant Sharma
EDEN Fellow, 2012
Assistant Professor, University of Wisconcin